Pedaling a bicycle along Tokyo bay area, with landscape in Odaiba area and take a rest at big park rich in nature. It is a little bit long distance but you can enjoy it with electronic bicycle.
 Distance: 25.0 km and 100 min by bicycle
What is docomo's rental bicycle?
Register is needed in advance. We are assuming to use docomo's rental bike to make this itinerary. 1500 yen for 1-day use.
How much does it cost for rent-a-bicycle, and can I save money by buying 1-day ticket for bicycle?
Based on docomo's rental bicycle, it takes 150 yen for first 30 min to ride and takes 100 yen for additional each 30 min.
In the meantime, they propose 1-day ticket for 1500 yen.
You will see even though you use it about 7 hours on end, 1-day ticket does not pay for, and you need to looking for place to purchase this ticket ( limited number of places compared with cycling ports).
We will recommend you to buy a ticket every single time
How to access to bike station to pick up:
From Tokyo station, walk to Otemachi station and get off a train at Kiba station.
Where to pick up a bike: Fukagawa Gatharia (深川ギャザリア)
Spots list in this course:
Odaiba
Odaiba is a waterfront area in Tokyo. Getting more and more popular among international tourists for shopping and walking. There are full of shopping facilities, amusement park and museum(National Museum of Emerging Science and Innovation). Popular facilities are schatered and good place to ride a bike.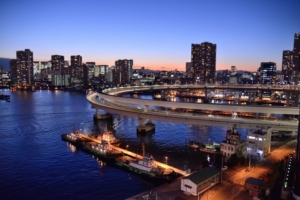 Kasai Rinkai Park
It is a big park with rich nature, facing Tokyo bay. There is an aquarium near this park.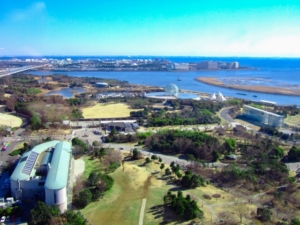 Parking lots:
Odaiba
"Divercity Tokyo plaza" designated parking space (free)
(Other options)
Community cycle H1-15.Daiba Station
Community cycle H1-08.Tokyo teleport station
Kasai Rinkai Park (葛西臨海公園)
You can park a bike for free in the park.
Where to drop off the bike:
Return back to Fukagawa Gatharia where you pick up it. There is no bicycle port in Kasai Rinkai Park, so that you can not drop off it near the park.