Feather for this course is,
+You can enjoy cycling along with Kanda River under leafy trees.
+You can see several famous sightseeing spots such as Imperial Palace, Jinbo book town, Nicolaido, a church, Koishikawa Korakuen, Kagurazaka, and Akasaka Rikyu
I have just gone through with this itinerary and it was good! (09.11.2017)
 Distance: 7.2 km and 29 min by bicycle
How much does it cost for rent-a-bicycle, and can I save money by buying 1-day ticket for bicycle?
Based on docomo's rental bicycle, it takes 150 yen for first 30 min to ride and takes 100 yen for additional each 30 min. In the meantime, they propose 1-day ticket for 1500 yen. You will see even though you use it about 7 hours on end, 1-day ticket does not pay for, and you need to looking for place to purchase this ticket (limited number of places compared with cycling ports).
We will recommend you to buy a ticket every single time
http://docomo-cycle.jp/chiyoda/en/ (offical webpage for docomo rental bicycle, English)
How to access to bike station to pick up:
From Tokyo station (JR), walk to Marunouchi South Gate: approx. 1-min.
Where to pick up a bike:
A4-01. Marunouchi Building
1 Tokyo station
Get off at Tokyo station, and exit from Marunouchi South gate, you will see a big building, called KITTE in front of the station. There is a tourist infomation center on the first basement floor. Get a map from Tokyo area.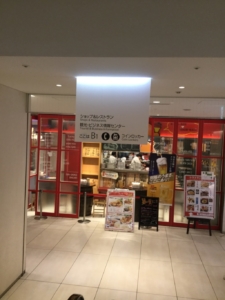 2 Rent a bike at A4-01. Marunouchi Building.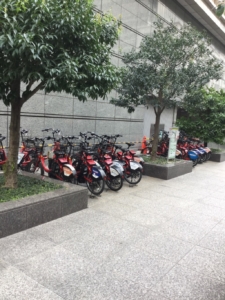 3 Imperial Palace
You can also go to Higashi-gyoen which is in the same place. Closing day: Monday and Friday.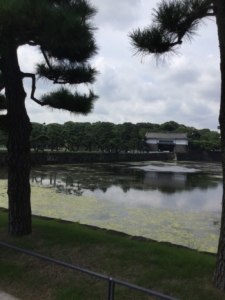 4 Trun right at house of Japan Meteorogical Agency to go Kanda area.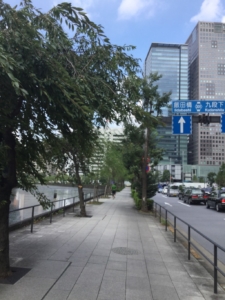 5 Jinbo-cho book town
There are a lot of book shops with old books. You will find a lot of technical books.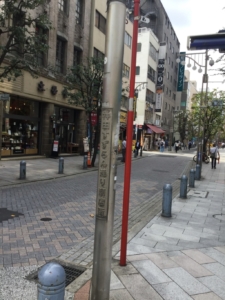 6 Ochanomizu Station
Turn left, you will reach to Ochanomizu station. If you want, you can drop by Nicolai-do (turn right and you will find it immediately).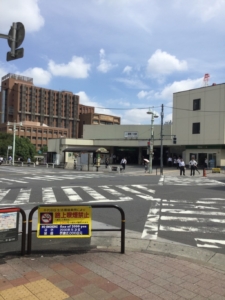 7 Suidobashi Station
Go down by Saikachi-zaka to get to Suidobashi area, then you will see a big ferris wheel from Tokyo Dome Park.
You can drop by Koishikawa Korakuen Park, too, which is next to Tokyo Dome.
There is a cycling road in this area next to walking road.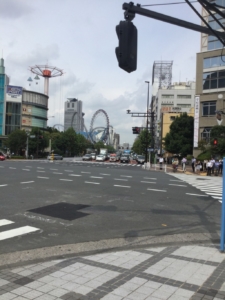 8  Iidabashi Station
Keep going down the road, then you will find Iidabashi station. Around Iidabashi station, there are lot of commercial building and shops with full of people. Go under the overpass of JR, you can find a nice bridge across JR line, which is called Ushigomebashi.
You can drop by Kagurazaka, a red-light district, too. It has a unique atmoshere with stone paved road.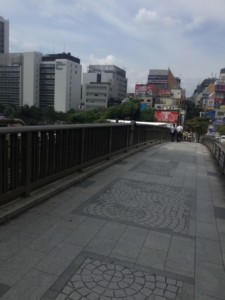 9 Cycling along Kanda River
Go accross the bridge and turn left you will see a river, called Kanda River on your left side.You can keep going along Kanda River under reefy trees, so that it is cooler even in hot weather.
You can also drop by Yasukuni Shrine, too. Yasukuni Shrine is famous for a place to enshrine victims from historical war.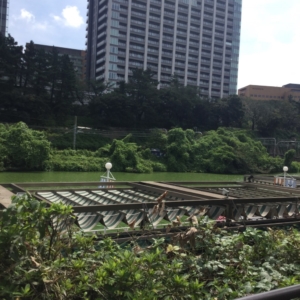 10 Yotsuya Station
Cycling road is end at almost Yotsuya district. You can go up to Akasaka Rikyu, or the State Guest House, since there is a bicycle port near Akasaka Rikyu. It is very huge and normally it is not open to public on exception that some special days in summer, but you can see huge gorgeous gate and spectacular building from the gate.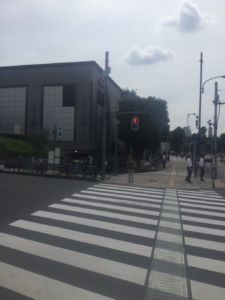 Cycle port:
Yotsuya Mitsuke Park, 5 min walk from JR Yotsuya station.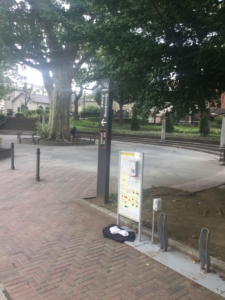 Total Time to spend:
1 hour and 18 min
Total Money for a bike to rent:
350 yen