How about riding a bicycle in Tokyo to go sightseeing? Tokyo has a lot of places to see but it is spattered for some extent. If you use a bicycle for sightseeing, it will be more interesting and easy to go around in Tokyo area. Here is an itinerary for one day sightseeing in Tokyo by a rental bicycle. We are assuming that using a docomo rent bicycle. Their bicycle are all electric bicycles and they have plenty of bicycle ports so that you can drop off your bicycle in each station.
 Distance: 15.7 km and 62 min by bicycle
How much does it cost for rent-a-bicycle, and can I save money by buying 1-day ticket for bicycle?
Based on docomo's rental bicycle, it takes 150 yen for first 30 min to ride and takes 100 yen for additional each 30 min. In the meantime, they propose 1-day ticket for 1500 yen. You will see even though you use it about 7 hours on end, 1-day ticket does not pay for, and you need to looking for place to purchase this ticket (limited number of places compared with cycling ports).
We will recommend you to buy a ticket every single time
http://docomo-cycle.jp/chiyoda/en/ (offical webpage for docomo rental bicycle, English)
How to access to bike station to pick up:
From Tokyo station (JR), walk to Marunouchi South Gate: approx. 1-min.
Where to pick up a bike:
A4-01. Marunouchi Building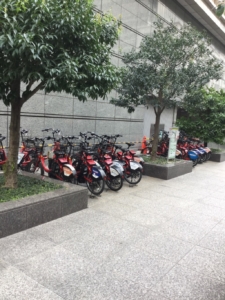 Spots list in this course:
 Tokyo Station
Tokyo station is a center station of Tokyo area, from which bullet trains start Tohoku area, Hokuriku area, and Osaka area. It was built by Kingo Tatsuno, a famous architect in Japan. Renovation had finished in 2012. Tokyo station is famous for shopping, too. There are a lot of shops in the Tokyo station.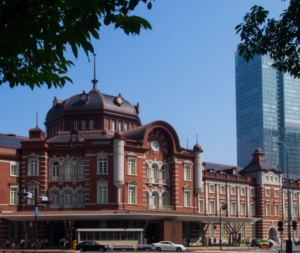 Imperial Palace
Near Tokyo station, current imperial Palace exists, where former Edo castle stood. Now Japan's Imperial Family live in.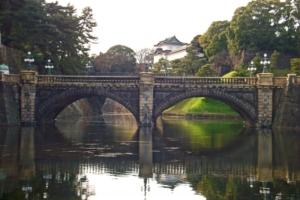 Nicholai-do
Holy Resurrection Cathedral (Nickname; Nicholai-do) is Japan's first and most biggest Byzantine style architecture (church).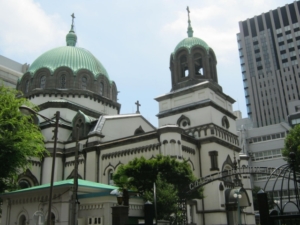 Akihabara
Akihabara is a center of subculture, anime, electronic device, and so on. There are hundreds of electronic shops, where you can buy from components level such as sensors, registers, and condensers.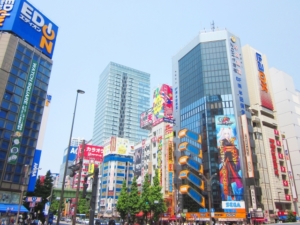 Asakusa
Asakusa is one of the most famous spots for international tourists. In Asakusa, there is a famous temple, Senso-ji, which was founded in the 7th century, when a local fisherman found a tiny Buddhist statue, which was enshrined and this temple became popular, year over year. Now more that 30 million people visit the temple to pray. Nakamise, a street which is approached to Senso-ji temple, is lined with shops specializing in traditional Japanese sweets and other goods.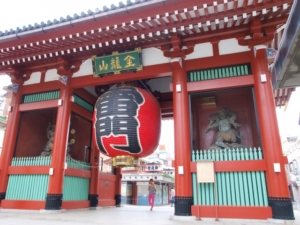 Tokyo Skytree
Tokyo Skytree is a symbol tower with 634 meter high in Tokyo area. It has an unique antiseismic structure which is combined modern technology and traditional technology which is known for Five-Storied Pagoda in temple. Japan is one of the earth quake-prone countries and it is interesting to see how this tall tower stands.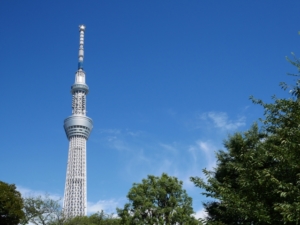 Ryogoku Kokugikan (Sumo Hall)
Ryogoku area is famous for Sumo to take place. Ryogoku Kokugikan is a big hall where you can watch Sumo tournament. Not only watching a tournament, you can go Sumo cafe, restaurant and shops. There is a Sumo museum next to Ryogoku Kokugikan, so that you can learn its history, too. Note: Museum is closed on Saturday, Sunday and Holidays.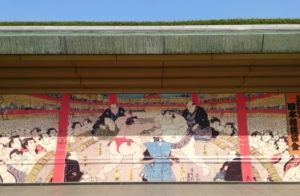 Parking lots:
Imperial Palace:
You can park a bike for free on the paved road in the garden so as to damage the gardens or the wildlife.
Nicholai-do:
Community Cycle A3-07. Awaji Park
Akihabara:
Community Cycle A3-04. Akihabara Park
Community Cycle A3-12. Akihabara UDX Building
Community Cycle A3-13. Fuji Soft Building
Community Cycle A3-28. Akihabara Electric Town Gate, Akihabara Station
Asakusa:
Docomo's rent cycle does not cover Asakusa area. You need park on Sumida Park Bicycle Parking (100 yen).
Tokyo skytree:
Tokyo skytree town has parking, it is for free two hours.
Ryogoku Kokugikan (Smou hall):
Docomo's rent cycle does not cover Ryogoku area. You need park on Yokoami Bicycle Parking (100 yen).
Where to drop off the bike:
Return back to Marunouchi Building where you pick up it.