What is SHORYUDO(Dragon-rise Region, 昇龍道)?
It is the second famous route to travel in Japan. It is a local project to be more attractive to international tourists, which consisting of nine prefecture (Aichi, Gifu, Mie, Shizuoka, Nagano, Ishikawa, Toyama, Fukui, and Shiga) . Dragon-rise is named after its shape of these region. Noto Peninsula is the head of dragon, Mie prefecture is the tail of dragon and body are made of nine prefectures representing dragon rising to the sky. You will choose Nagoya Airport to enter the route and exit from Komatsu (Kanagawa prefecture) or Toyama airport. Since Komatsu and Toyama airport have direct international flights to Asian area, main target of this region is Asian tourists.
What is benefit to travel along the SHORYUDO route?
There are discount transportation tickets available.
-3 days ticket named "Takayama, Shirakawa-gou and Kanazawa course" priced of 7,500 yen
-5 days ticket named "wide course" priced 13,000 yen.
How many model course for Dragon-rise Region?
There are four model courses; Dragon course, Nostalgic course, Great Nature course and Ukiyo-e course.
Sample Itinerary for Dragon course
Here is a sample itinerary from local community about Dragon course.
Theme: An invitation to traditional aspects
*  Nagoya (1 night) — Gero onsen (1 night) — Takayama(1 night) — Toyama (1 night) — Kanazawa (1 night) — Wakura Onsen (1 night)
Cities: Nagoya, Kanazawa, Takayama, Inuyama, Gujyo, Toyama, Takaoka, Kanazawa, Nanao, Wajima
Day 1 Aichi: Sightseeing Nagoya (stay at Nagoya)
Nagoya (Aichi prefecture) is the third biggest city in Japan. There are a lot of manufacturing companies in Aichi including Toyota Motors Corporation. You can visit Toyota Commemorative Museum of Industry and Technology if you have interest in manufacturing. It has demonstration about old fabric machinery made by Sakichi Toyoda, a founder of Toyota Group.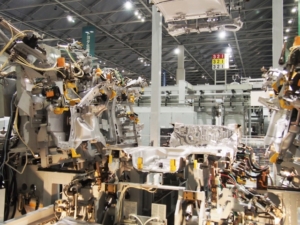 Day 2 Inuyama & Gujyo: Nagoya-Inuyama- Gujyo-Gero Onsen (stay at Gero Onsen (hot spring))
A "MUST SEE" place is Inuyama Castle. Only 12 castles which still have an original donjon built in and before the Edo period and Inuyama Castle is one of them and is designated as "National Treasures." then, visit Gujyo-Hachiman, where you can find old nostalgic houses. Gero Onsen was rated one of Japan's three most famous hot spring resorts, along with Kusatsu Onsen and Arima Onsen, by the Edo-period scholar Hayashi Razan. Nestling in a mountainous valley along the Hida River, it has been known for more than 1,000 years as a healing hot spring with high temperatures, which are believed to be effective in treating rheumatism and relieving fatigue.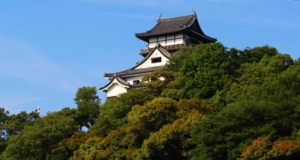 Day 3 Takayama: Gero Onsen-Takayama (stay at Takayama)
Takayama city is famous for its festivals and landscape of old houses. As for festivals, it noted for its procession of elaborately decorated floats. Some floats features skillfully operated karakuri ningyos, or mechanical marionettes that perform amazing tricks.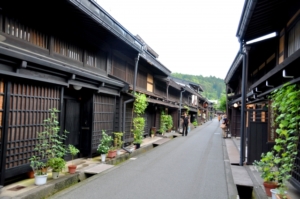 Day 4 Toyama: Takayama-Takaoka-Toyama (stay at Toyama)
There are three MUST SEE places in Takaoka, Zuiryu-ji, Kanaya-cho, The Great Buddha of Takaoka. The Great Buddha of Takaoka is one of three big Buddha in Japan, along with Kamakura and Nara.
You can also visit Nosaku , a metal forging company to see real manufacturing in Takaoka, too.
Day 5 Kanazawa: Toyama-Kanazawa (stay at Kanazawa)
"MUST SEE" places in Kanazawa are Kenrokuen, Kanazawa Castle, and Higashi Chaya-machi. Kenrokuen is a strolling-style landscape garden which is counted as one of the three most famous gardens in Japan. This garden has the six desirable qualities for an excellent garden: spaciousness, seclusion, artifice, antiquity, water-courses and panoramas.
From Toyama to Kanazawa, it takes only 23 min by bullet train.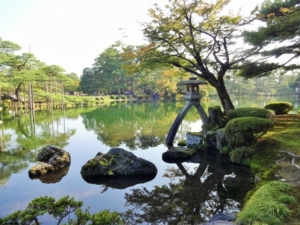 Day 6 Wakura Onsen: Kanazawa-Wakura Onsen (stay at Wakura Onsen(hot spring))
Wakura Onsen is a hot spring resort with a 1,200-year history, which is located near Nanao Bay on the Noto Peninsula. Blessed with an abundance of hot water, fresh foods from the ocean and mountains, this popular resort has welcome more than one million visitors every year.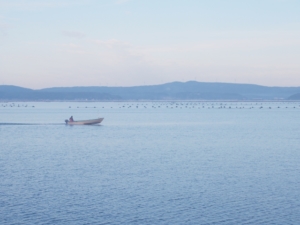 Day 7 Wajima: Wakura Onsen-Wajima-Komatsu Airport- Fly home
Wajima is famous for Wajima lacquer. There are many craft shops for Wajima lacquer. You can enjoy visiting these shops each by each and talk with craftsman or taking lesson for Wajima lacquer. Shiro yone Senmaida (See photo) was designated as a national scenic beauty. Its unique landscape consists from many layers of terraced rice paddies overlapping each other on the steep slopes.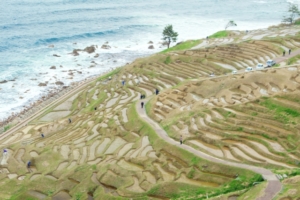 Conclusion
How is the itinerary? It is a little bit slow trip rather than squeezing. It focuses a real life of local area in Japan. The trip is not only for sightseeing, but for touching deep Japan in rural area.
External link