Akihabara is very interesting places not only for anime, but also for looking electronic devices and parts. This time, we will show you how to go around Akihabara area.
Purpose: Build a surveillance camera with Raspberry pi. The output of Raspberry pi is 3.3 V and you can connect directly to a motion detector (Operating voltage range is 3V-6V) with jumper wires.
Wish list: breadboard and  jumper wires, a motion detector
1. Akibaoh (あきばお~) Store No.2
Akibaoh is a total discount shop with 10 shops in Akihabara and several places in Tokyo. You can buy everything from toys, electric devices, PC devices. It is easy to find since, it stands at the corner with full of. Store No.2 is a flagship shop.
Official webisite (Japanese) (http://www.akibaoo.co.jp)
Operating hours:From 11:00-20:00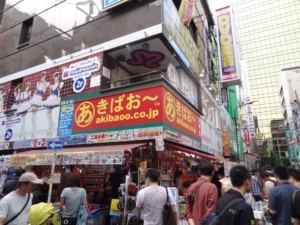 2. Sengoku Densho (千石電商,Akihabara headquator)
Sengoku Densho runs three stores in Akihabara and one store in Nihonbashi.You can buy electric tools and parts (condenser, resistor, sensor, etc…).
official webiste (Japanese) (https://www.sengoku.co.jp)
I bought a breadboard and  jumper wires
Operation hours:10:30-19:00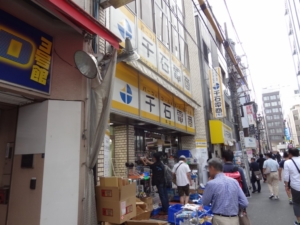 3. Akizuki Denshi Tsusho (秋月電子通商)
You can get an electronic parts and original craft kit. The store is very small with full of customers. If you can not find your items, please ask shop stuff. They will look for items for you. I bought a motion detector.
Official website(Japanese) (http://akizukidenshi.com/catalog/default.aspx)
Operating Hours:11:00-18:00
4. Marutsu Akihabara shop No.2 (マルツ秋葉原2号館)
Marutsu runs two shops in Akihabara, specified with electronic parts and semiconductors. You won't miss a big blue sign.
Official website (Japanese) (http://www.marutsu.co.jp)
Operation hours:11:00-20:00
5. Yodobashi Camera (Optional)
Yodobashi Camera is a major japanese retails specialized in electronics, PCs, devices, toys and so on. If you want to buy major electronics, just drop by Yodobashi camera in front of the station.
We dropped by for lunch. There are several restaurant for japanese food, Chinese food, Korean food, Italian and so on. We drop at Korean restaurant (photo), it is delicious with buffet style for appetizer, and we were full.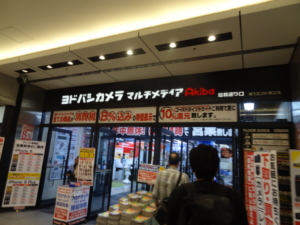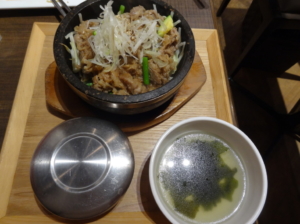 Akihabara is like a market of electronic parts and items. The price will change with daily basis according to demand and supply. Highly recommended to buy them after check price of all the shops above, then purchase your items.
If you get tired of walking, how about taking a rest in Maide cafe? or regular cafe such as Doutor coffee around this district.
In case you want to build your system at Akihabara, the suitable place is "Souzou Kukan Nano Labo" is a space which has time tariff system and offers free drinks, soldering tools, drilling machine, 3D printer and so on. You can go out to get additional parts if you find something forget to buy.
Official website for "Souzou Kukan Nano Labo" (Japanese)
http://nanolab.jp/