Kobe city is located in Kansai area which is close to Kansai International Airport, which is also surrounded by sea and mountains. With this unique location, you can enjoy nature and unique modern culture.
When it comes to sightseeing in Kobe, most people choose Ijinkan for sightseeing district where they have western houses, but this area (Kitano) is a bit far from center of Kobe (take a local bus) and take a lot of time to see around this area with some money for admission (500-1050 yen for each).
How about going to a different western house which is located in Kobe Zoo, Former Hunter House, which is most biggest houses, existing in Kobe?
You can also enjoy Kobe Zoo which have giant pandas, too.
Noted that this western house is open to public only in Spring and Autumn.
9:00 Hankyu Oji Koen Station
Kobe Oji Zoo
・Former Hunter House ( Need 600 yen for admission of the zoo)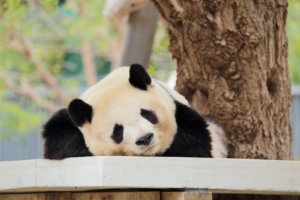 10:30 Hankyu Sannomiya Station
There are a lot of small cafe and restaurant. It is one of the biggest shopping districts in Kobe.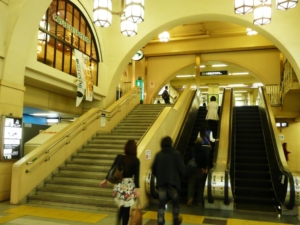 11:00 The Former Foreign Settlement (Kyukyoryuchi)
There was a place to live for international people after open kobe port from Edo period. You can see western building and houses with brick or stone transformed into restaurants or boutiques.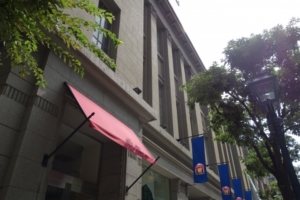 14:00 Nankinmachi (China town)
Nankinmachi is one of the three biggest Chinatown in Japan, along with Yokohama and Nagasaki. You can eat Chinese food and go shopping for Chinese items. Let's grab something to eat and take a walk.
15:00 Meriken Park Harborland
Meriken Park is also very popular with local people and tourists. It is a waterfront park with Kobe Port Tower, hotel and museums. It is nice to cruising off kobe city. If you are interested in bike or Shinkansen, a must-see place is Kawasaki Good Times World, which is corporate museum of Kawasaki heavy industries, where you can see motorcycle, robots, bullet train  and so on.
Actually I do not recommend to climb up in the Kobe tower, since it is landmark of Kobe with its red color and unique shape, it is better to see it from outside.
Return back to Hankyu Sannomiya station and get on a train, and get off at Rokko station.
Take a bus to cable car station (Rokko cable shita station), then ride on a cable car to Rokko cable ue station. This cable car connects both stations with 493.3 meters high and 1.7 km long.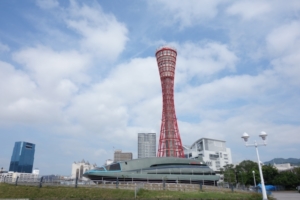 17:00 Enjoy night view at Mt.Rokko
Kobe is chosen as one of the three biggest scenic night view places in japan, said it is worth 10 million dollars. There is a nice restaurant for dinner, too.
TENRAN CAFE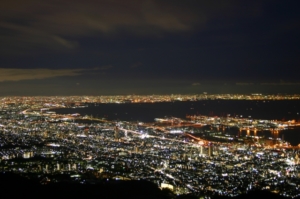 Stay at Arima hotspring resort
You can also go beyond Mt. Rokko, where you can see Arima hotspring resort by ropeway. It takes only 12 mins from the Summit of Mt. Rokko station to Arima hotspring station with twenty-minute-interval. (One-way: 1010 yen, Round trip: 1820 yen)
Arima hot spring resort is one of the three oldest hot-spring resorts in Japan, along with Dogo Onsen and Shirahama Onsen. It is well-known for its two types of springs: Kinsen, or "Gold Spring", which is brownish-red water rich in iron and salinity, and Ginsen, or "Silver Spring," which is transparent water containing radium and carbonate. In addition to that its townscape is reminiscent of the old days, Arima Onsen draw a lot of tourists every year.