What is SHORYUDO(Dragon-rise Region, 昇龍道)?
It is the second famous route to travel in Japan. It is a local project to be more attractive to international tourists, which consisting of nine prefecture (Aichi, Gifu, Mie, Shizuoka, Nagano, Ishikawa, Toyama, Fukui, and Shiga) . Dragon-rise is named after its shape of these region. Noto Peninsula is the head of dragon, Mie prefecture is the tail of dragon and body are made of nine prefectures representing dragon rising to the sky. You will choose Nagoya Airport to enter the route and exit from Komatsu (Kanagawa prefecture) or Toyama airport. Since Komatsu and Toyama airport have direct international flights to Asian area, main target of this region is Asian tourists.
What is benefit to travel along the SHORYUDO route?
There are discount transportation tickets available.
-3 days ticket named "Takayama, Shirakawa-gou and Kanazawa course" priced 7,500 yen
-5 days ticket named "wide course" priced 13,000 yen.
How many model course for Dragon-rise Region?
There are four model courses; Dragon course, Nostalgic course, Great Nature course and Ukiyo-e course.
Sample Itinerary for Great Nature Course
Here is a sample itinerary from local community about Great Nature Course.
Theme: Magnificient Mountain Scenery and Historical Adventures
*  Shinano-Omachi (1 night) — Unazuki Onsen (1 night) — Awara Onsen (1 night) — Nagahama (1 night) — Gifu (1 night)
Cities: Nagano, Omachi, Tateyama, Kurobe, Uozu, Toyama, Kanazawa, Awara, Fukui, Nagahama, Yoro, Gifu, Nagoya, Minami-Chita
Day 1 Nagano: Tokyo- Nagano- Shinano Omachi (stay at Omachi)
Omachi is an entrance for Tateyama Kurobe Alpine Route from Nagano side.
Nagano city has developed as a temple town with Zenko-ji temple. Visit Togakushi-kogen, which is famous for Soba (Japanese noodle) or Azumino, which is famous for rafting activity and Wasabi(horseradish).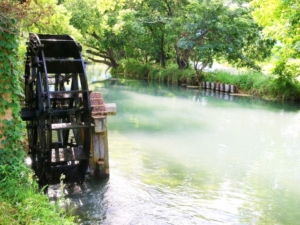 Day 2 Tateyama Kurobe Alpine Route: Omachi- Alpine Route- Unazuki Onsen (stay at Unazuki Onsen)
Tateyama Kurobe Alpine Route is about 100 kilometer long among the North Alps, which is connecting Nagano to Toyama prefecture. Along this route, you can see a panoramic view of 3000-meter-mountain at Murodo-daira.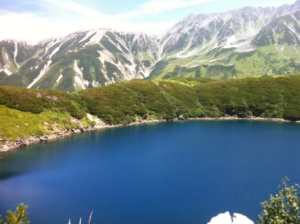 Day 3 Toyama: Unazuki-Uozu-Toyama-Kanazawa-Awara Onsen (stay at Awara Onsen)
On the way to Toyama, Uozu city is famous for mirage especially during spring and winter. Toyama is one of the  big cities in Hokuriku area. In Toyama city, there is big garden, Fugan Unga Kansui Park which is known for a starbucks cafe, which is said the most beautiful starbucks in the world.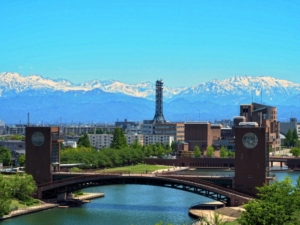 Day 4 Fukui: Awara Onsen-Fukui- Nagahama (stay at Nagahama)
Walking around Fukui city or Fukui Prefectural Dinosaur Museum, which is established 2000 with the background of excavation of dinosaur fossils at this site. It is popular museum with excavation lessons. Eihei-ji temple is one of the headquarters of Sotoshu school, which is starting from practicing zazen. From JR Fukui station, it will take 25 min to get the nearest station "Eihei-ji guchi station" and take 10 min by local bus to Eihei-ji.
Kurokabe (Black wall) Square in Nagahama city is a modern shopping mall, based on an old bank building which has black walls. After redevelopment in its street, now there is a nice cafe, shops and restaurant.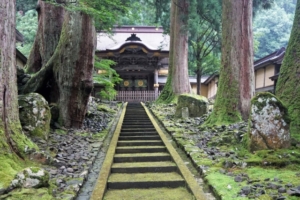 Day 5 Yoro: Nagahama-Yoro-Gifu (stay at Gifu)
Visit Yoro falls which was designated as Japan's Top 100 Waterfalls, and spend time with strolling this huge quasi-national park and drop at Kawara-machi for old townscape in Gifu city before watching Ukai activity (fishing with cormorants).
Note: Two Yoro falls in Japan, which are in Chiba and Gifu. please search with keywords ,"yoro falls gifu".
Day 6 Aichi: Gifu- Nagoya- Minamichita- Chubu International Airport
In Nagoya, "MUST SEE" Places are Nagoya castle, Osu Kannon, Atsuta Shrine, Tokugawa art museum and Toyota Commemorative Museum of Industry and Technology.
In Minamichita, attend fruits picking activity or a beach-seine acrivity.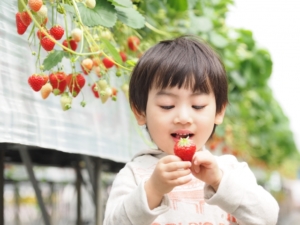 Conclusion
How is the itinerary? There are several sports activity in this itinerary.  You will see Japanese culture developed with Japanese great nature throughout this itinerary!