What is SHORYUDO(Dragon-rise Region, 昇龍道)?
It is the second famous route to travel in Japan. It is a local project to be more attractive to international tourists, which consisting of nine prefecture (Aichi, Gifu, Mie, Shizuoka, Nagano, Ishikawa, Toyama, Fukui, and Shiga) . Dragon-rise is named after its shape of these region. Noto Peninsula is the head of dragon, Mie prefecture is the tail of dragon and body are made of nine prefectures representing dragon rising to the sky. You will choose Nagoya Airport to enter the route and exit from Komatsu (Kanagawa prefecture) or Toyama airport. Since Komatsu and Toyama airport have direct international flights to Asian area, main target of this region is Asian tourists.
What is benefit to travel along the SHORYUDO route?
There are discount transportation tickets available.
-3 days ticket named "Takayama, Shirakawa-gou and Kanazawa course" priced 7,500 yen
-5 days ticket named "wide course" priced 13,000 yen.
How many model course for Dragon-rise Region?
There are four model courses; Dragon course, Nostalgic course, Great Nature course and Ukiyo-e course.
Sample Itinerary for Nostalgic course
Here is a sample itinerary from local community about Nostalgic course.
Theme: The Heart and Soul of Japan: Tours of Ise-jingu Shrine and World Heritage Sites
*  Kanazawa (1 night) — Takayama (1 night) — Matsumoto (1 night) — Nagano (1 night) — Nagoya (1 night) — Nagashima Resort (1 night) — Toba (1 night) — Kumano/ Owase (1 night)
Cities: Kanazawa, Nagoya, Takayama, Matsumoto, Nagano, Kuwana, Shirakawa, Nagiso, Nakatsugawa, Inuyama, Ise, Iga, Nanto, Toba, Kumano, Owase
Day 1 Kanazawa: Sightseeing Kanazawa (stay at Kanazawa)
"MUST SEE" places in Kanazawa are Kenrokuen, Kanazawa Castle, and Higashi Chaya-machi. Kenrokuen is a strolling-style landscape garden which is counted as one of the three most famous gardens in Japan. This garden has the six desirable qualities for an excellent garden: spaciousness, seclusion, artifice, antiquity, water-courses and panoramas.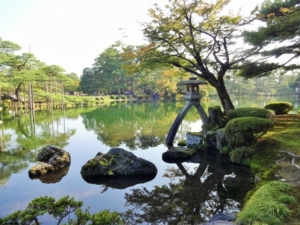 Day 2 Shirakawa-gou/Gokayama: Kanazawa-Shirakawa-gou/Gokayama – Takayama(stay at Takayama)
Maybe you are new to Gokayama. Gokayama is almost same as Shirakawa-gou. Both are registered as UNESCO World heritage site with same year in 1995. If you have time, you can visit both area ( easy to access to both area with same bus), but Shirakawa-gou is more larger site and busy for tourists. Shirakawa-go is a historic village, where unique traditional farmhouses survive. Built in the architectural style called "Gassho-zukuri," these houses are characterized by steep-pitched thatched roofs, which are designed to shed heavy snow typical of this region.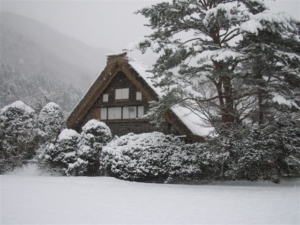 Day 3 Kamikouchi: Tayakama-Shinhotaka-Kamikouchi-Matsumoto (stay at Matsumoto)
Kamikouchi is belongs to Chubu Sangaku National Park and is designated as a Special National Monument. Especially famous are the wooden suspension bridge known as Kappabashi on the Azusa River, and Taisho Pond. Fresh air & nature makes you refresh. You need to prepare some extra clothes for changeable mountain temperature.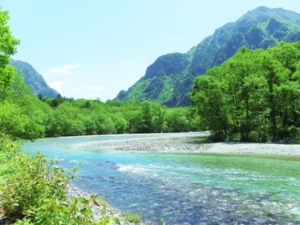 Day 4 Monkey Park: Matsumoto-Nagano-Jigokudani Yaen Park(Monkey Park) in Shiga Highlands – Nagano (stay at Nagano)
Shiga Kogen is famous for its grand-scale ski terrain, panoramic view and natural powder snow. At the foot of Shiga Kogen is Jigokudani Wild Monkey Park where Japanese monkeys bathe in natural hot springs. Nagano is famous for temple town with its famous temple, Zenko-ji. Zenko-ji is a non-sectarian Budhist temple and known as one of the pilgrimage spots. This temple traces its origin to the seventh century when Honda Yoshimitsu brought back to Nagano the oldest Buddha statue which had been introduced in Japan but dumped in Osaka in a controversy over nation's adoption of Buddhism.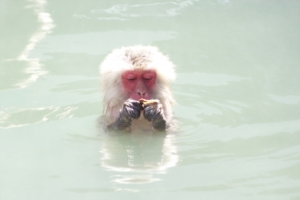 Day 5 Inuyama: Nagano- Tsumago-juku and Magome-juku- Inuyama- Nagoya (stay at Nagoya)
A "MUST SEE" place is Inuyama Castle. Only 12 castles which still have an original donjon built in and before the Edo period and Inuyama Castle is one of them and is designated as "National Treasures." then, visit Gujyo-Hachiman, where you can find old nostalgic houses.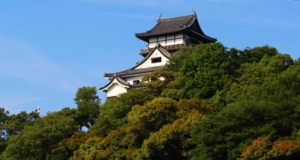 Day 6 Nagashima: Nagoya-Nagashima (stay at Nagashima Resort)
Nagashima Resort is mainly consist of an amusement park, Nabana no sato(flower garden with thousand illumination in winter), hot spring and Anpanman museum ( one of famous anime character in Japan). From Nabana no sato to amusement park, it take 10 min to get by a private car and 20 min by a local bus (get off the bus stop, "Nagashima Onsen" for going the amusement park).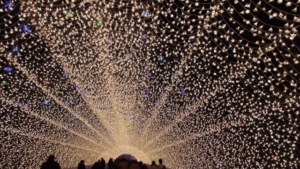 Day 7 Ise: Nagashima-Iga-Ise-Toba(stay at Toba)
Iga and Ise are interesting spot to see. Iga is famous for Ninja. Visit at Ninja Museum of Igaryu. You can see unique houses with traps and fake hallways and Ninjya show.
Ise is famous for Ise Jingu, which is the most venerated Shinto sanctuary of great spiritual and historical significance. This sacred shrine consists of 125 shrines centering on the two main sanctuaries: Naiku and Geku. Naiku is dedicated to Amaterasu Omikami, the supreme goddess shining like the sun, who is the ancestral kami of the imperial family of Japan. Geku is dedicated to Toyouke Omikami, the deity who offers scared food to the supreme goddess.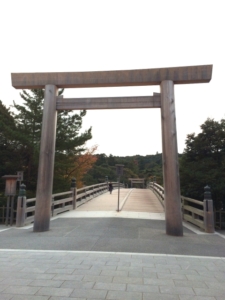 Day 8 Toba: Toba-Owase(stay at Kumano or Owase)
Toba is famous for aquarium and perl island. MUST SEE places is Mikimoto pearl island (jewel making), Toba aquarium and women divers' hut.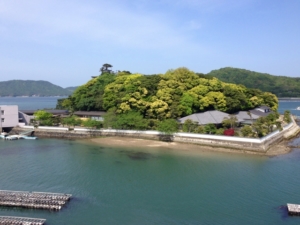 Day 9 Owase-Kumano
Kumano Kodo is a series of ancient pilgrimage routes to the three sacred sites, Kumano Hongu Taisha, Kumano Nachi Taisha and Kumano Hayatama Taisha, which are collectively known as Kumano Sanzan, and they were registered in 2004 as a UNESCO World Heritage site as part of "the Sacred Sites and Pilgrimage Routes in the Kii Mountain Range." The official itinerary is end up with Kumano, but you can stay in Osaka for Day 9 and go to Kansai International Airport to fly home or you can go to Nara to see the Great Buddha additionally.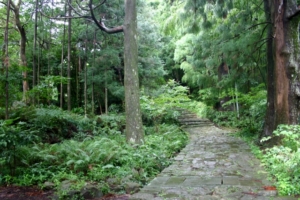 Conclusion
How is the itinerary? Official itinerary has restriction about region, since it created by local community, which means they can not extend further from Mie area (ex, Nara, Osaka and Kyoto). But of course you can extend this itinerary to Kinki area before flying home with Kansai International Airport (Osaka).