Looking for another new sightseeing route in Japan?
Let's go further to west part of Japan along Seto Inland See. Here is one of an official itinerary for Seto Inland See.
Theme: A trip to discover west part of Japan
* Kobe (1 night) – Tokushima (1 night) – Takamatsu (1 night) – Okayama (1 night) – Matsuyama (1 night) – Hiroshima (1 night) – Yamaguchi (1 night) – Fukuoka (1 night)
Cities: Osaka, Kyoto, Kobe, Himeji, Naruto, Tokushima, Iya, Takamatsu, Naoshima, Kurashiki, Okayama, Onomichi, Imabari, Matsuyama, Hiroshima, Miyajima, Iwakuni, Yamaguchi, Hagi, Shimonoseki, Fukuoka
Day 1  Osaka, Kyoto: KIX airport – Osaka, Kyoto- Kobe (stay in Kobe)
Kansai International Airport, located in Osaka prefecture and has easy to access Osaka city area, Kyoto area, and Hyogo area. There are many shuttle buses bounded for many cities from this airport.
You can also pre visit to Kyoto or Osaka for several days, since there are a lot of famous sightseeing spots, such as Golden Pavilion called Kinkaku-ji temple in Kyoto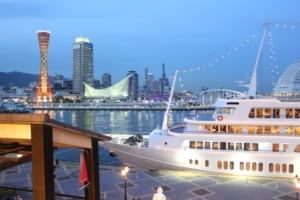 Day 2  Himeji, Naruto, Tokushima: Kobe-Himeji-Naruto-Tokushima ( stay in Tokushima)
From Himeji to Naruto, there is no direct transportation, and you need to get on a train to Kobe station, then take a highway bus to Naruto.
From Naruto, there is a local bus bound for Tokushima.
Himeji Castle is one of the "MUST SEE" places in Japan. It is know as "White Heron Castle" for its striking resemblance to a snowy egret taking flight. It was registered as a first World Heritage site in Japan.
In Naruto, you can see Naruto whirlpools, and You can see up close these whirlpools by cruising. Please check the tidal time before you plan with an official webpage.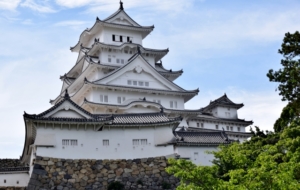 Day 3 Oboke, Iyakei, Takamatsu: Tokushima-Oboke, Iyakei-Takamatsu (stay in Takamatsu)
From Tokushima, get on a train and take off at Oboke station. At Awa Ikeda station, there is a sightseeing bus bound for Oboke and Iyakei on weekend with 7500 yen, lunch included by Shikoku Kotsu.(Reservation is needed), or you can get on a seasonal bus from Oboke station to go to Kazura-bashi (bridge) and Oboke from March to November.
From Oboke station, get on a limited express train bounded for Okayama, then change a train at Uwazu station and finally get off at Takayama Station. That should take to 1 hour and half to get there .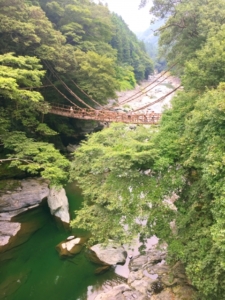 Day 4 Naoshima, Kurashiki, Okayama:  Takamatsu-Naoshima-Kurashiki-Okayama (stay in  Okayama)
Naoshima is a small island with 8km2 and 3100 people lived there, which is famous for museum. There are two choices of how to get to Naoshima. Either from Shikoku side or Honsyu side.
At Naoshima, you can walk, take a bus or rent-a-bicycle. Be sure that museums are closed on monday.
From Naoshima to Uno port in Okayama prefecture(Honsyu), it takes only 20 mins by a ferry.
From Uno port, take a train and get off at Chayamachi station (320 yen) and get on a local bus and get to Kurashiki Station (330 yen). From Kurashiki to Okayama station, it takes only 17 min by JR.
Kurashiki is famous for its townscape, called Bikan district. Houses and warehouses with white walls are along with Kurashiki River.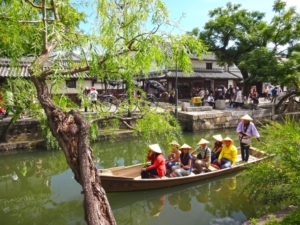 Day 5 Onomichi, Shimanami marine road, Imabari, Matsuyama: Okayama- Onomichi- Shimanami marine road- Imabari- Matsuyama (stay in matsuyama)
From Onomichi To Imabari, there is a highway bus that costs 2,250yen, it takes about 1hour  30minutes. This bus passes almost all the islands of Shimanami marine road. To get to Matuyama from Imabari,you either take an express train on JR or a local bus.
The Dogo onsen hot springs in Matsuyama, Ehime prefecture is the region oldest hot springs in Japan with the legend of white heron. It is been said that a white injured heron soaked her leg into the hot spring every day, then her injury was completely healed. People started to wonder seeing the heron to soak her leg into this hot spring and realized the efficacy by bathing themselves too.
Onomichi is called a town of cultural heritages, since there are many historical and traditional beautiful temples and shrines extant which escaped damage from the war. Not just the historical sites but the views of landscapes are also extremely wonderful. Many view spots with Seto Inland Sea and mountains gives you a magical recollections.
Shimanami marine road is commonly known as the Shimanami Kaido Expressway that connects Onomichi and Imabari. Links the islands of Seto Inland Sea with nine beautiful bridges.
Imabari is famous for towel for a long days, and recently it become success to make a sophisticated local brand for towl.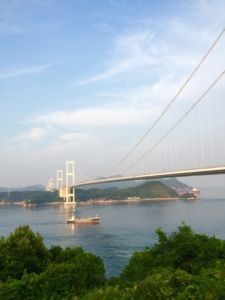 Day 6 Hiroshima: Matsuyama- Hiroshima (stay in Hiroshima)
The Hiroshima Peace Memorial Museum is located in Hiroshima city, which was registered as a World Heritage site by UNESCO. It reminds the world of the first atomic bombing.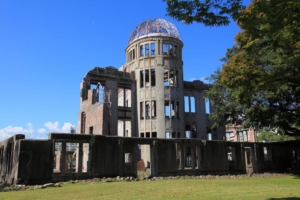 Day 7 Miyajima, Iwakuni, Yamaguchi: Hiroshima-Miyajima-Iwakuni-Yamaguchi (stay in Yamaguchi)
Kintai-kyo (bridge) in Iwakuni is famous for its structure with a series of five-arched wooden bridge on four stone piers that extends across the lower Nishiki River. It connects to Iwakuni castle and its castle town. It was gone through three reconstructions since it was originally built in 1673.
Day 8 Hagi, Shimonoseki, Fukuoka: Hiroshima-Hagi-Shimonoseki-Fukuoka (stay in Fukuoka)
Hagi is famous for Japanese distinguished educator Yoshida Shoin whose students contributed to Meiji Restoration.
To get to Hagi from Yamaguchi, there is a local bus that takes about an hour by Chugoku JR Bus and it casts about 1800 yen. To get straight to Shimonoseki from Hagi by local train, you will need two or three times of transfer and at least 2 hours 30 minutes. Otherwise take the local bus back to Yamaguchi then take San-yo Shinkansen(bullet train) for an hour.
Karatsu market in Shimonoseki, where you can buy a lot of fresh fish, vegetables, and fruits.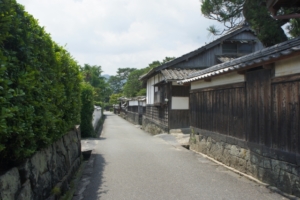 Day 9  Fly to Narita/ Haneda Airport in Tokyo from Fukuoka airport
Conclusion
On the day 8, It is better to skip Hagi since it is difficult to access from Yamaguchi and Shimonoseki by public transportation.If you skip Hagi, you will go straight from Yamaguchi to Shimonoseki station.But Hagi is very nice place to visit and it is better to rent a car if you want go there.
From this itinerary, you will feel Seto Island see, a lot, since it pass through the Seto Inland Sea several times with Island Naoshima. Seto Inland Sea is very beautiful. Please visit there and discover new "golden route" other than just going from Tokyo to Osaka.