What is SHORYUDO(Dragon-rise Region, 昇龍道)?
The second famous route to travel Japan recommended by Japan Tourism Agency.This route is set to attract more international tourists to historical regions of Sengoku Era and Japanese industrial side, and the route consists of nine prefecture (Aichi, Gifu, Mie, Shizuoka, Nagano, Ishikawa, Toyama, Fukui, and Shiga). Dragon-rise is named after its shape of these region. Noto Peninsula is the head of dragon, Mie prefecture is the tail of dragon and body is made of nine prefectures representing dragon rising to the sky. You will choose Nagoya Airport to enter the route and exit from Komatsu Airport (Kanagawa prefecture) or Toyama Airport. Since Komatsu and Toyama Airport have direct international flights to Asian areas, this Shoryudo route is targeted to Asian tourists.
What is the benefit to travel along the SHORYUDO route?
There are discount transportation tickets available.
-3 days ticket named "Takayama, Shirakawa-gou and Kanazawa course"priced 7,500 yen.
-5 days ticket named "wide course" priced 13,000 yen.
How many model courses for Dragon-rise Region?
There are four model courses; Dragon course, Nostalgic course,Great Nature course and Ukiyo-e course.
Sample Itinerary for Ukiyo-e course
Here is a sample itinerary from local community about Ukiyo-e course, named after Famous Ukiyo-e, The Fifty-three Stations of the Tōkaidō, since this course is along the Tokaido.
Theme: Experiencing Samurai Culture and Traditional Techniques
*  Hikone (1 night) — Gamagori (1 night) — Hamamatsu (1 night) — Shizuoka (1 night)
Cities: Nagoya, Fuji, Otsu, Hikone, Sekigahara, Nagoya, Gamagori, Toyota, Okazaki, Hamamatsu, Fuji, Fujinomiya, Gotemba
Day 1 Otsu, Hieizan, Hikone: Osaka–Otsu–Hieizan–Hikone(stay in Hikone)
Start with Hieizan, the headquarters of the Tendai sect of Buddhism. Enryaku-ji od Hieizan was registered as a World Heritage site by UNESCO in 1994. Then take "Sakamoto Cable Car" to Cable Sakamoto Station(860 yen), a shuttle bus to Kei-han Sakamoto Station(210 yen), and Keihan Train to Hama-Otsu Station(16 mins, 240 yen) to experience a fantastic paddle boat cruise around the south part  of Lake Biwa called the "Michigan Cruise". You can choose one from three types of cruise available. After enjoying the beautiful view of Lake Biwa, take JR train from Ohtsu Station to get to Hikone Station(38 mins, 970 yen). You will see a magnificent Hikone Castle designated as a National Treasure.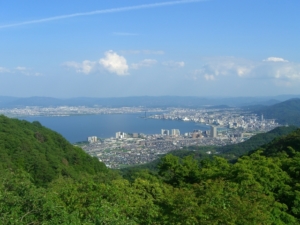 Day 2  Sekigahara, Nagoya, Gamagori (stay in Gamagori Onsen, hot spring village)
Take JR train to get to Sekigahara Station(40 mins, 500 yen, transfer at Maibara Station) to start with visiting a battlefield of the Battle of Sekigahara, one of the most famous and fateful battle of Sengoku Era. After having a little bit time of Samurai, take JR train (50 mins, 970 yen, transfer at Ogaki Station) to visit Nagoya where many kinds of industries are thriving. Recommendations: Train Museum of JR Tokai, Toyota Commemorative Museum of Industry and Technology, or sightseeing route bus called "Me-guru" for many more options.
Take JR Train to Gamagori Station (40 mins, 970 yen) for accommodation in Gamagori Onsen, the hot spring village.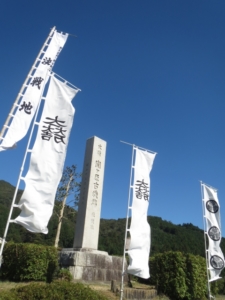 Day 3 Toyota, Okazaki, Hamamatsu (stay in Hamamatsu)
Visiting one of the famous Japanese Company "TOYOTA" factory. Take JR Train to Okazaki Station(11 mins, 320 yen) transfer at Okazaki Station to Aichi Loop Railway for Shin-Toyota Station(33 mins, 500 yen). After an attractive field trip of TOYOTA, go back to Okazaki Station for walking around Okazaki for Okazaki Castle, Nagoya cuisines or bus tour called "Machi-bus". Take JR Train to Toyohashi Station (21 mins, 1140 yen), then transfer to bullet train for Hamamatsu Station(13 mins) for an accommodation in Hamamatsu where prospered as a castle town and post town from Sengoku era. In Hamamatsu, you will find SUZUKI Plaza another famous Car Company, Hamamatsu Museum of Musical Instruments, Hamamatsu Castle, Lake Hamana, or Hamamatsu Flower Park.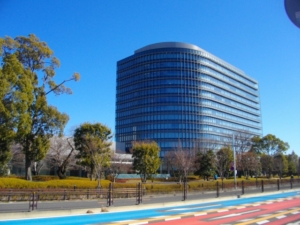 Day 4 Shizuoka (stay in Shizuoka)
Spend all of the day enjoying Shizuoka fully.Take JR bullet train (30 mins, 1320 yen) for Shizuoka Station. In Shizuoka you will find Tokaido Hirosige Museum of Art, Kuno-zan Toshogu Shrine,where enshrines Shogun (general) Ieyasu Tokugawa, MIHO Museum, or Miho-no-Matsubara.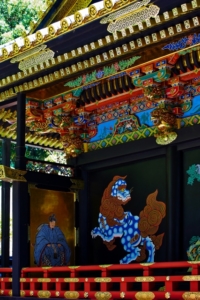 Day 5 Fuji, Fujinomiya, Gotemba
Take JR Train for Fuji Station (34 mins, 580 yen) to experience the most symbolic mountain of Japan which was designated as a World Heritage site by UNESCO in 2013. Visiting Sengen Taisha Shrine, Shiraito Falls or spend time with eco trekking courses in Mt.Fuji's fifth station are nice too. After the wonderful time in the famous World Heritage site, how about a nice shopping time in Gotemba Premium Outlets? It takes an hour from Fuji Station to Gotemba Station by JR train (760 yen, transfer at Numazu Station). Take a highway bus for 1hour 30mins back to Tokyo for your flight home.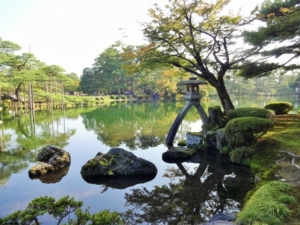 Conclusion
Tokaido street was a main road which had been flourishing with Edo period. You will see the old days from the age of provincial wars to Edo period along this itinerary.
External link
http://www.mlit.go.jp/common/001128306.pdf (Official webpage from Japan Tourism Agency, Japanese)