Tohoku is northern area of Tokyo. Most of international tourist select to go Kyoto area for the first time, but still Tohoku area is popular for more than second visit to Japan. If you want to relax and enjoy nature, Tohoku is best place to visit. You can experience more about Japan's plenty of nature and unique culture in Tohoku area.  Tohoku area is famous for hot spring too. we put one hotspring place at the last night, but you can choose either you stay there (nyuto hot spring) or Akita (same place to previous stay). It is hard to put all sightseeing spots in Tohoku for 7 days together, but we make a sample itinerary which included below popular spots. Shirakami-sanchi, Hiraizumi, Matsushima, Seibien, Oirase-keiryu, Nyuto hot spring.
Itinerary for 7 days
Theme: Visit Tohoku to touch Japanese deep nature & unique tradition with 7 days
* Sendai (2 nights) — Hirosaki (2 nights) — Akita(1 night)  — Akita/Nyuto hotspring (1 night)
Cities: Sendai, Matsushima, Hiraizumi, Hirosaki,  Aomori, Akita, Senhoku, Kakunodate.
Day1 Matsushima: Tokyo-Sendai (stay at Sendai)
From Tokyo-Sendai, you can go by bullet train (Shinkansen, it takes about 2 hours).
Matsushima is a group of about 260 pine-covered islands on Matsushima Bay in Miyagi prefecture. It is designated as one of the three most viewpoints in Japan. Along the coastlines are historical buildings such as Entsu-in and Zuigan-ji, a representative Zen temple founded in 828 by Priest Ennin.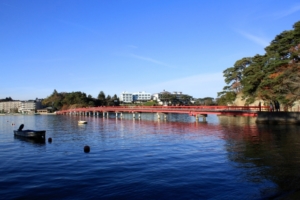 Day2 Hiraizumi & Geibikei: Sendai-Hiraizumi-Geibikei (a day trip) (stay at Sendai)
Hiraizumi was registered on the list of the UNESCO World Heritage in 2011. It has a long history since the latter part of the Heian Period (about 1100-). It represents for the ideal world based on Buddhism in Hiraizumi.
Geibikei, formed sheer cliff by nature was selected as one of the 100 Landscapes of Japan. You can go downstream by boat. By riding on a boat, you can see magnificent landscape.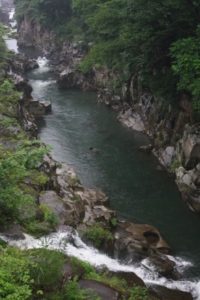 Day 3 Nebuta Museum WA-RASSE & Hirosaki: Sendai-Shin Aomori-Hirosaki (stay at Hirosaki)
From Sendai-Hirosaki, you can go by bullet train and JR train (transfar at Shin-Aomori sta.) It takes about 3 hours.
Nebuta is one of the most spectacular festivals in Japan that features gigantic floats called "Nebuta". The floats parade carrying the image of historical figures or Kabuki characters. You can see a movie and floats in "WA-RASSE" to experience Nebuta festival.
Seibi-en is famous for Ghibli. This place was where "The Secret World of Arrietty" took place. Not only for Ghibli, but it is famous for unique structure of a house. First floor is pure Japanese style while second floor is western style. It is beautiful and very unique.
You can also visit Hirosaki castle in Hirosaki area, which is famous for cherry blossom.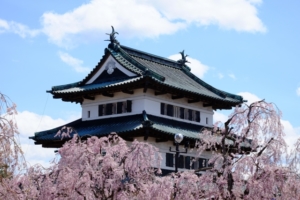 Day4 Oirase keiryu (trekking): (a day trip) (stay at Hirosaki)
Oirase-keiryu is a scenic mountain stream in Aomori Prefecture, belongs to Towada-Hachimantai National Park. It is a tributary of the Oirase River that starts from Nenokuchi at the shore of Lake Towada. It presents a dynamic landscape of ever-changing water flows.
From Aomori station to Oirase keiryu, there is a bus**. It takes about 2 hours to get Oirase keiryu. You can use Japan Rail Pass for it. (You can not use East Rail Pass!)
**Please check the operation period. they will stop operation during winter season.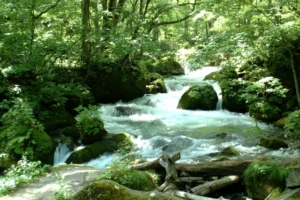 Day5 Shirakami-sanchi (trekking): Hirosaki-Shirakami sanchi-Hirosaki-Akita (stay at Akita)
Shirakami-sanchi was registered on the list of the UNESCO World Natural Heritage. After trekking at Shirakami-sanchi, go back to Hirosaki and go to Akita by train ( take about 2 hours by express train).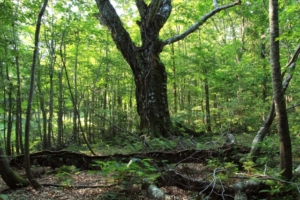 Day6 Mt.Haguro: Akita-Tsuruoka-Mt.Haguro-Tsuruoka-Akita (stay at Nyuto hot spring/ Akita city)
Mt. Haguro is one of the three mountains in Dewa Mountains. Mt.Haguro is famous for Yamabushi (trainee) , training in the mountain by living there wearing white suits. If you have energy, try climbing the 2,446 stone steps to the shrine at the top. It takes over an hour get there.
Nyuto hot spring is one of the most famous hot spring in Japan. It has nostalgic atomoshere if you take a hot spring in winter with lights.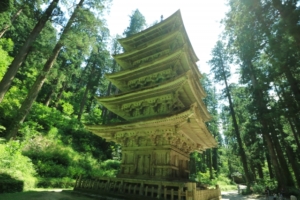 Day7 Kakunodate: Nyuto hotspring/Akita-Kakunodate-Tokyo
Kakunodate is known for small Kyoto in Tohoku area. Old houses for soldiers and merchants , formed a street remains for a long time. You can see inside these houses, too.  This place is also known for cherry blossoms. From Kakunodate, it will take 3 hours to get back to Tokyo station.