Kizakura is one of the famous sake companies in Fushimi(伏見),Kyoto. Fushimi district is traditional sake brewing district along Horikawa River in southern Kyoto. Since Azuchi-Momoyama (安土桃山)period, sake has been produced in this area. One important thing to produce sake is– abundant supply of clean water. Thanks to the clean, soft water that flows in abundance from the river's underground springs, the district is home to nearly 40 sake breweries.  Kizakura has start its business about 60 years ago. It is much younger than other breweries in Fushimi. Normally, it becomes weak point if you have short history in sake business, but they turns this disadvantage to advantage by challenging other business like running a restaurant.
Any difference between other sake factories?
Compared with Gekkeikan (月桂冠), which is a sake giant company in Fushimi is very interesting! Both factories are open to public and located in Fushimi, but they are totally different. Gekkeikan is an old and giant company, while Kizakura is a young company. In sake industry, it was considered having "history" is brand. How can Kizakura compete with other breweries without any brand? For example, Kizakura produced sake for women who had not targeted from other companies. Now they starts producing craft-beer. Gekkeikan is also an interesting company.  They considered Quality is the top of priority ( see their policy below). In order to pursue its quality, they has researched for a long time and developed sake production system with whole year. At that time, sake is depend on climate and difficult to produce for whole year. Gekkeikan is the first company to produce sake for whole year. If you understand their business & policy, then it will be more interesting!
Gekkeikan
Kizakura
Policy
QUALITY、CREATIVITY、HUMANITY
 Keep challenging according to the needs of the age with cherish its tradition
Business
Manufacturing and sales for sake mainly,

or import & sale German beer, German wine,

and French wine.

Manufacturing groceries (sake, craft-beer, etc)
Running restaurants, a izakaya, or other shops
Established year
1637
1925 ( young!)
About factory tour
Small plant(月桂冠酒香房),next to memorial hall is built for 70th anniversary.

In this plant, you can see  fermentation process of moromi through the glasses

You can see current factory of sake and beer inside through the glasses with one time.
Sake tasting
〇
×
Price
Adults:300 yen,Children:100yen

(from junior high school students)
Souvenior:Sake(180ML)1ea
(For minors, postcard will be handed.)

Free of charge
Shop/ Restaurant
Shop
Shop & restaurant
 Access
Near a station
Shuttle Bus is available from a nearest station
By public transportation
・From Keihan honsen Chushojima(中書島) station
20 min to walk from the station(※shuttle bus is avaiable, see below chart)
By Car
Hanshin Expressway No. 8 Kyoto Route
・「From the Fushimi exit」5 min
・「From the Jonanngu-south exit」10 min
Parking lot is available.
Shuttle bus time schedule
Kizakura factory

(伏水蔵)

Kappa country Parking lot
Chushojima station
(中書島)

Kizakura factory

(伏水蔵)

 
 
10:00
Arrival
10:45
10:55
11:00
Arrival
11:45
11:55
12:00
Arrival
12:45
12:55
13:00
Arrival
13:45
13:55
14:00
Arrival
14:45
14:55
15:00
Arrival
16:15
※
※
 
※ Only for getting out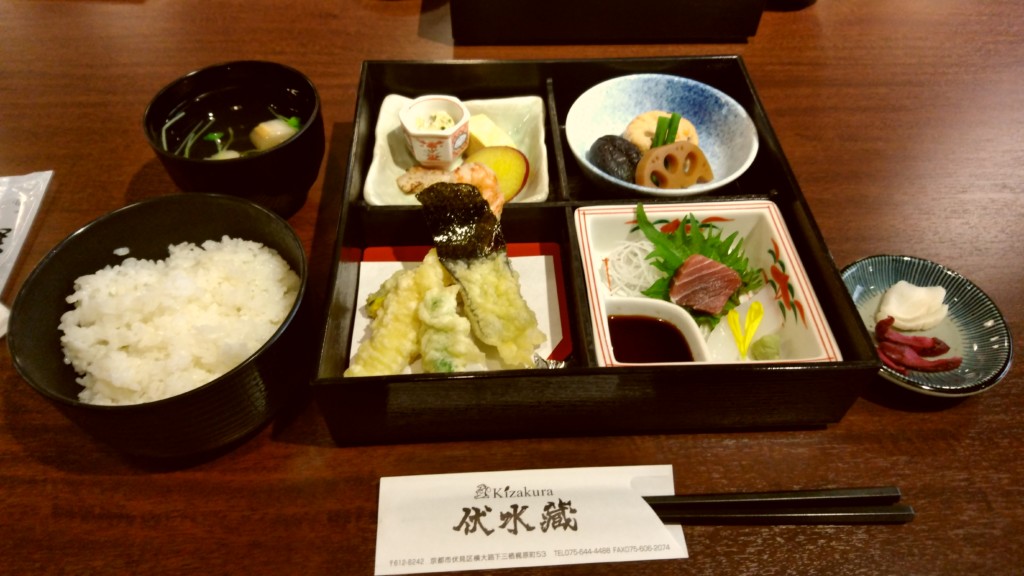 Hana Gozen (花御膳) 1,620 yen
If you want to go Kizakura factory tour, you need to reserve in advance by phone.
+81-75-644-4488
Phone hour: 10:00-16:00