About Nousaku
Nousaku is a casting company for 100 years in Takaoka city, Toyama Prefecture.
It has produced Buddhist altar fittings, tea sets and flower vases, cooperated with other companies in Takaoka for a long time. Order had been received from tonya(問屋), wholesale dealer only. But the market had been shrinking and they were at the edge of cliff to survive. In that situation, Nousaku decided to shift its business model from BtoB to BtoC, which means it has start developing its own products and have sales network. During this difficult situation, Nousaku made a wind bell for the first time, which became a million seller. Still it purche innovative challenges such as making inroads into medical industry or producing 100% tin plate and basket, which bend flexibly.
Nousaku has its own cafe with its plate and shop. you can enjoy Nousaku world fully if you get there.
Factory tour
A factory of Nosaku is open to public. It provides as factory tours and lessons. During this factory tour, you can try to bend products made of 100% tin and see the manufacturing process especially, forging and finishing process by craftsmen.  please reserve factory tour by web or telephone before coming. (free of charge)
You can also take workshop about metal-forging, with small gift. Price will change on your makings with range from 800 yen to 3500 yen.
You can check detail  in official webpage (English)
Takaoka city
Takaoka city is famous for Takaoka Copper. It is very interesting to know background of the local city before going to Nousaku. They divided manufacturing process into many small sections and in each section, there is a professional worker. Then Tonya is taking a managing role for these manufacturing process. Still you can find coloring companies or forging companies in Takaoka.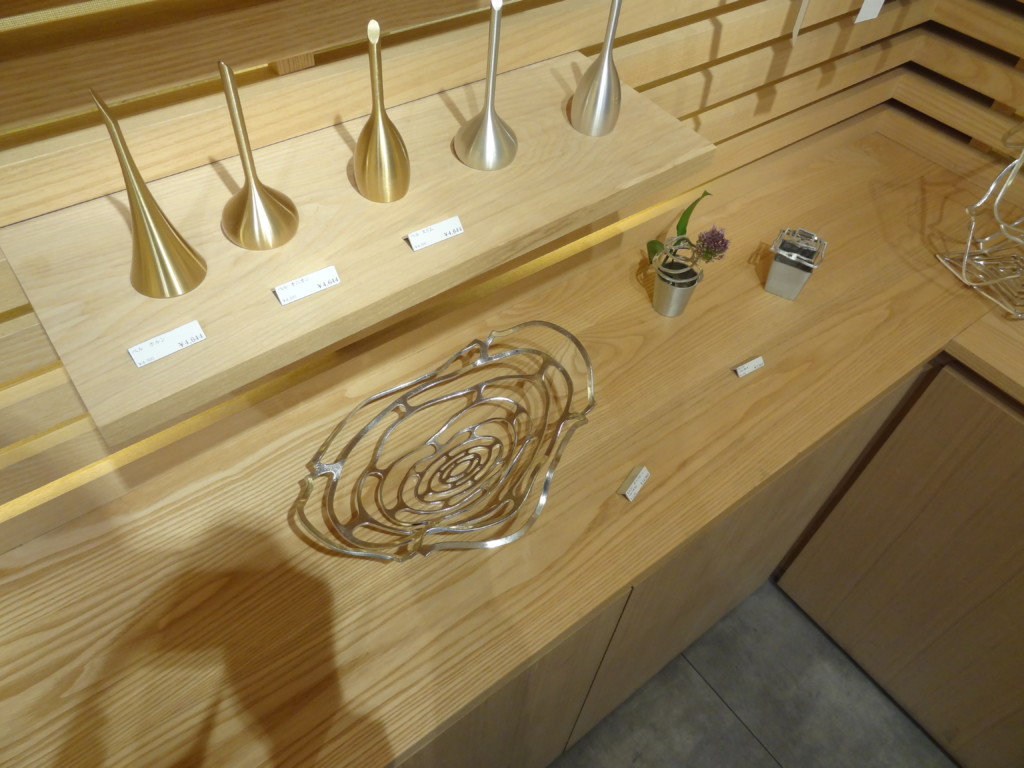 One of the main products is made of 100% tin.  Usually, tin is used mixing with other metals since tin itself is too soft to formation. Nousaku has developed its technology and they propose new value for dishes.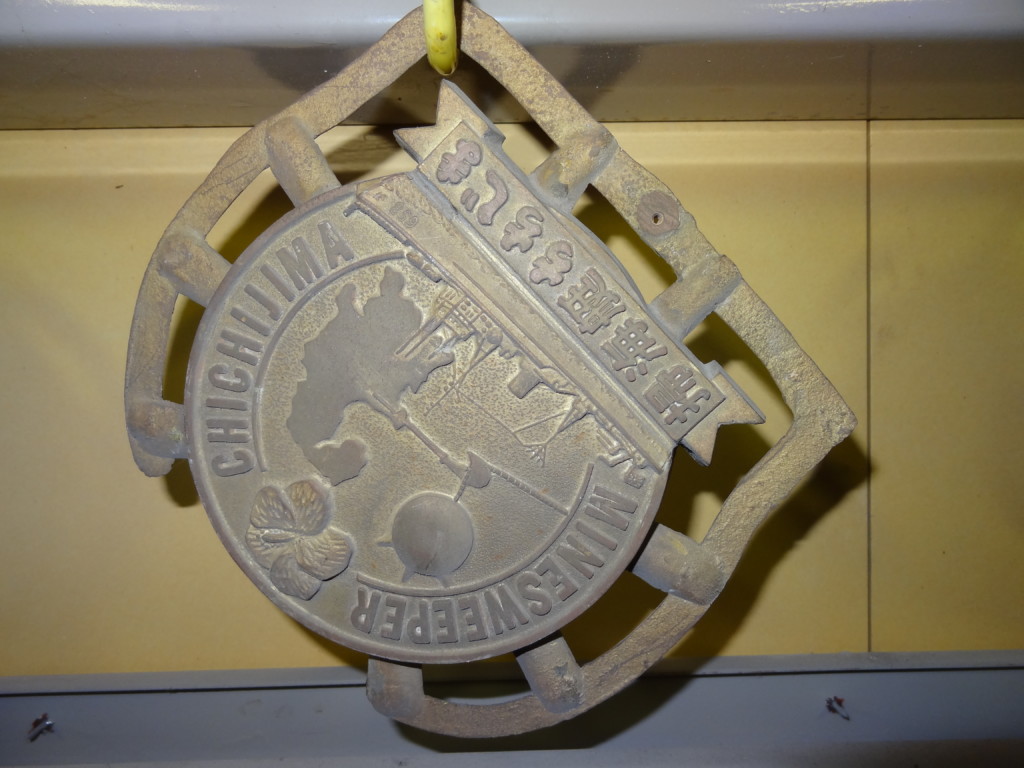 This is a mold for Japanese navy. There are many unique mold. please find your favorite one.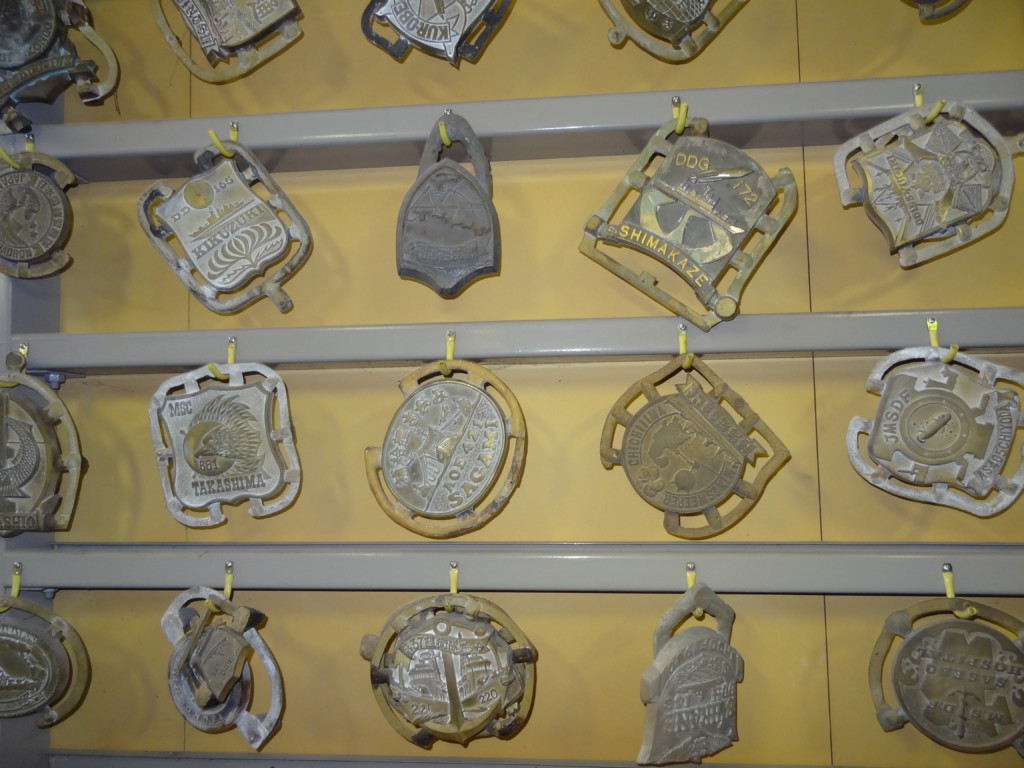 Many mold is hanged because Nousaku has a policy,that it never says "No" for orders even if it is sold once a year.
Other sightseeing place to visit
Takaoka daibutsu(高岡大仏)
Zuiryuji(瑞龍寺)
Kanaya-cho(金谷町)
It is convenient to take a taxi from JR takaoka station. An alternative way is to take a local bus stop near Nousaku, "Takaoka houka daigaku mae"(高岡法科大学前.) This bus is operating about once in two hours in weekday. It takes 7 min to walk from the bus stop.
please check official website for time schedule( bus company)
Cafe and shop are next to the factory (HQ.)
Cafe "IMONO KITCHEN"
They produce local fresh food with Nousaku original dishes and plate.
Opening hours: 10:00-18:00 (last call for food/drink at 17:30)
Closed: Over the New Year's holiday
Factory shop
You can purchase limited items in factory shop.
Opening hours: 10:00-18:00
Factory tour
Duration: 60min
Admission: Free
Reservation: required by website or email.
Closed: Sunday, National Holiday, Over the New Year's holiday
Time; 9:30-10:30/ 11:00-12:00/ 13:00-14:00/ 14:30-15:30/ 16:00-17:00
Workshop
Item
Duration
Price (TAX incl., JPY)
Sake cup
90 min
3,500
Small bowl
90 min
3,500
Tray
90 min
3,500
Chopstick rest
90 min
2,000
Insect charm
90 min
2,000
Paper weight
30 min
800